"Crush Test Dummies"

Season 1, Episode 7

Information
Aus. Airdate

8 June, 2010

U.S. Airdate

March 22, 2012

Writer(s)

Deborah Parsons

Director(s)

Jeffrey Walker

Episode Guide
Previous
Next

"Crush Test Dummies" is the seventh episode of season one of the Australian television series, Dance Academy. It aired on 8 June, 2010 on ABC3 and on March 22, 2012 on TeenNick. The episode was written by Deborah Parsons.
Episode Overview
Ethan needs a dancer for his hip-hop choreography showcase and calls Christian on the favour he owes him from when he stole money from his wallet. Christian agrees but refuses to dance Ethan's choreography, deeming it wannabe American gangster. He takes Ethan back to his old neighbourhood, the housing commission at Maroubra, to show him some real Australian street hip-hop. Ethan is inspired by what he sees but his flirting with Kaylah, a street hip-hop dancer, puts him off side with some of the Maroubra locals and when Kaylah's street-smart cousin Tweak tries to fight him, Ethan finds himself in deeper trouble than he can handle on his own. Fortunately he finds unexpected support from Christian, who arrives just in time to help Ethan defend himself. Meanwhile, Tara's pathetic attempts to make Ethan notice her and Sammy's own burgeoning feelings for a "mystery girl" cause Kat to analyse the nature of crushes. Tara is the self-proclaimed expert on this subject and is happy to educate Kat in every aspect of the mysterious art form, however the girls can't believe it when they discover it is Abigail who Sammy has a crush on.
Recurring Characters
Tara Morice as Miss Raine,
Robert Alexander as Mr Kennedy
Cariba Heine as Isabelle
Kat Risteska as Kaylah
Joel de Carteret as Tweak
David Dennis as Hip Hop Teacher
Stephen Multari as Tim
Shayni Notelovitz as Bonnie
Gallery
To view the Crush Test Dummies gallery, click here.
Video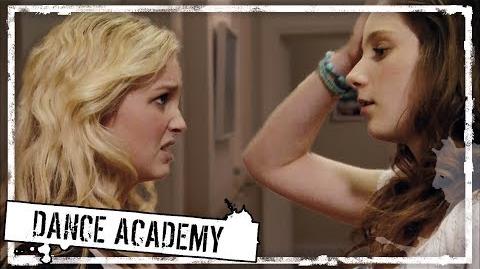 Community content is available under
CC-BY-SA
unless otherwise noted.