"My Life En Pointe"

Season 1, Episode 15

Information
Aus. Airdate

18 June 2010

U.S. Airdate

June 19, 2012

Writer(s)

Sam Carroll

Director(s)

Catriona MacKenzie

Episode Guide
Previous
Next
"My Life En Pointe" is the fifteenth episode of season one of the Australian television series, Dance Academy. It aired on 18 June, 2010 on ABC3 and aired on June 19, 2012 on TeenNick. The episode was written by Sam Carroll.
Episode Overview
Tensions are flaring between Tara and Christian since their romantic moment beneath the Sydney Harbour Bridge and it's only made worse when Ethan asks them to help him with his showreel, forcing them to dance together. Their antagonism culminates in an argument on the banks of the harbor, where Tara surprises herself by kissing Christian. Shocked by her actions, she flees the scene, leaving Christian equally confused. However, Tara is not the only student getting herself into trouble. Kat is caught missing classes to attend a music festival with new boyfriend Lucas, and as punishment is forced to "volunteer" at a local dance center for underprivileged children. Expecting the worst, Kat is surprised when she forms an unlikely connection with a fiery young girl named Scout. Kat offers to take the class to the dress rehearsal of a television dance show, however when she later forgets about the excursion, the director of the center warns Kat that he can't expose the children to someone who is going to disappoint them. Life at the Academy is further complicated by the arrival of Petra Hoffman, the new German exchange student, who becomes Kat's new roommate. Petra, feeling lonely in a new country, befriends a lost dog and hides him in the Boarding House. Kat and Tara help Petra find the dog's owners, cementing a friendship with her in the process.
Gallery
To view the My Life En Pointe gallery, click here.
Video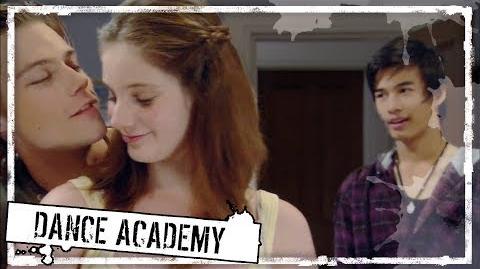 Community content is available under
CC-BY-SA
unless otherwise noted.