Paige Armstrong

Information
Full Name
Paige Mackenzie Armstrong
Gender
Female
Date of Birth
1999
Eye Color
Brown
Hair Color
Brown
Network
Family
Anthea Armstrong (Mother)
Abigail Armstrong (older sister)
Production
First Episode
One Perfect Day
Last Episode
Heatwave
Reason
Paige's visit to Abigail was temporary.
Portrayed By
Zoe Ioannou
Paige Mackenzie Armstrong
is the younger eleven year old sister of
Abigail Armstrong
, one of the Academy's top dancers in her year.
Character History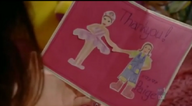 In One Perfect Day, she spent the day at Luna Park with Abigail and her friends, Kat and Sammy, who she befriends. Paige causes trouble to Abigail on the day as she continuously ignores her attempt to domineer her and tries to mingle with Sammy and Kat, who she enjoyed hanging out with. Whilst at Luna Park, she has a fight with Abigail, blaming her for not being able to go on holidays, not being able to eat chocolate ice-cream and not visiting even though she lives so close to home. She later storms off while Abigail is in tears, unbeknownst of her whereabouts. When Abigail returns back to the Academy, she finds Paige in Sammy and Christian's room playing with Sammy and Kat and runs to her room, breaking down. Paige goes to see Abigail and tells her that Sammy likes her, even though she treats him like dirt and that mum and dad love her even though they're split between two cities. She later tells her that even she doesn't hate her, only that she hates herself. Paige then hands a handmade card to Abigail and asks for a hug. Relationships
Abigail is her older sister and Paige claims she is the reason for mum and dad being split in two cities along with other items listed above.
Community content is available under
CC-BY-SA
unless otherwise noted.