"Week Zero"

Season 1, Episode 2

Information
Aus. Airdate

1 June, 2010

U.S. Airdate

February 24, 2012

Writer(s)

Samantha Strauss

Director(s)

Jeffrey Walker

Episode Guide
Previous
Next
"Week Zero" is the second episode of season one of the Australian television series, Dance Academy. It aired on 1 June, 2010 on ABC3 and on February, 24 2012 on TeenNick. The episode was written by Samantha Strauss.
Episode Overview
Tara leaves her home in the country and arrives at the Academy filled with excitement about the year ahead, but she's crushed to learn that she is at the bottom of all her classes and not allowed to dance en pointe until her technique improves. Fortunately, she's not alone: Sammy's at the bottom as well, except he is forced to wear pointe shoes to strengthen his ankles. Strangely, Abigail has requested Tara as a roommate. What Tara doesn't know is that it's to keep a competitive eye on her rather than a gesture of friendship. However, Tara still manages to have fun during orientation week. She jumps from a high balcony into Sydney Harbour with Kat late at night as an initiation ritual, and Ethan even remembers her name. Tara finally sees Abigail has never been a friend and forms a tight trio with Kat and Sammy. After finding out that Abigail tried to sabotage her audition Tara assaults Abigail by hitting her with her pointe shoes. Together, they might just make it through the first week, and the rest of the year at Dance Academy.
Recurring Characters
Steve Vidler as Neil Webster
Vanessa Gray as Jan Webster
Deborah Kennedy as Miss Histead
Matt Lee as Sean
Zika Nester as Tikkinova
Shayni Notelovitz as Bonnie
Susan Honeybrook as Gloria
Lucy Quian as Isabelle's Friend
Sarah Grieve as Kat Jump Double
Marlee Barber as Tara Jump Double
Trivia
In real life Tara would have been charged with assault and kicked out of National Dance Academy of Sydney for hitting Abigail with her pointe shoes. Abigail would have also been kicked out of National Dance Academy of Sydney for sabotaging Tara.
Gallery
To view the Week Zero gallery, click here.
Video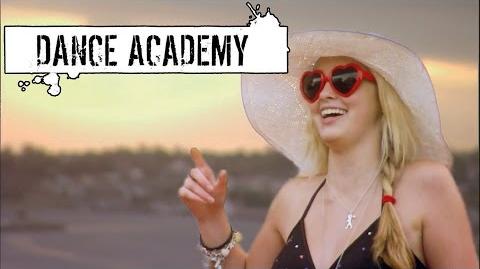 Community content is available under
CC-BY-SA
unless otherwise noted.